Tuesday, September 20, 2005
Well, as you may have probably heard, it's been one hell of a week for my friends, family and myself. Besides dealing with the standard weekly bullshit that comes at a fairly consistent pace and makes the weeks suck enough to begin with, I had to deal with a whole new type of shit heap. I've posted pictures which you can view by clicking the images below or going to the
TKCNet Gallery
. The first set of images are what started off the weekend. I was just informed that my good friend Jared Dunnahoo had just passed away and was feeling a bit down to say the least. So, after a night of work at the office, I go home, turn on the television and not even 10 minutes later the owner of the Resturaunt next door to my office calls and tells me about a car that ran into it. So, I'm thinking, "Hrmm.. What kind of sick joke is this?". Turns out, it was no joke. I ended up having to stay in the office ALL FUCKING NIGHT to make sure no sneaky bastards got in through the broken windows to steal any of my stuff.
So, this takes us to the second set of wonderful images below. The fact I was up all night in the office made the trip to Alamosa for my buddie's funeral the next morning absolutely horrific. Not only was it hotter than two squirrels fucking in a wool sock, but it was as long as we had anticipated (L-O-N-G). But, it turn out to be a good trip none the less. I got to meet plenty of people I hadn't had the chance to meet before. Plus, getting to see your friend go away for the last time is better than not seeing him at all...
Enjoy the images, folks. As usual, any feedback can be made on the
TKCNet Forums
or by
sending me email
.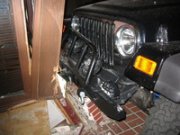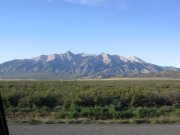 Until next time...